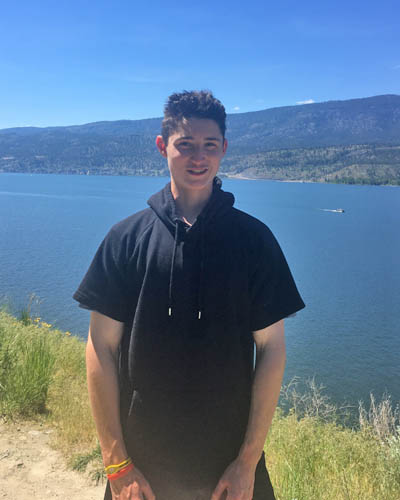 Jordan Renwick is the founder of JR SPORT ELITE and was born and raised in Kelowna, BC. He can't say enough about being able to grow up in the beautiful Okanagan Valley and he has been very fortunate to live next to Knox Mountain Provincial Park. This is Jordan's training ground for an elite physical fitness regime that can push most to their limits. Jordan is passionate about maintaining good health and strong physical fitness. He is now training to compete among the best at competitive Pickleball Tournaments across North America.
---
Questions:
What do you like most about competitive Pickleball and when did you start?
I like the variety of people I get to meet and I have always enjoyed older people as I am an only child and I like fun people who laugh! I first was introduced to Pickleball when I was around 13, but chose to train in competitive tennis until I was 17.
What are your future goals?
To continue to pursue my Bachelor of Business Administration Degree at Okanagan College, compete in Pickleball in hopes of one day becoming a world champion and to develop my business/product lines further.
What attributes do you think you received from your parents and how does it help with playing Pickleball?
I was given Drive and Determination from my Mother and Speed, Strength, and Stamina from my Father. Any time you compete you have to handle the pressure. I find I thrive when tested to my limits and I do well controlling the negative effects of stress.
What are your best memories of travelling as a child?
I was fortunate to travel around the world to many destinations and enjoy a variety of cultures and experiences. I still love Long Beach with the majestic beauty of the West Coast and Ocean Air and I love Phoenix as we have a family condo in Scottsdale where we vacation annually.
What do you think it is going to take to reach your goals?
I created a unique sports spray and odor eliminator under the brand called ZEAL IMPACT. It stands for "ZERO EXPECTATIONS, ALWAYS LIVING". Never expect anything to come easy in life, you have to continuously work hard, set realistic goals, and never give up. The most important thing is to live life and enjoy everything along the way!
---