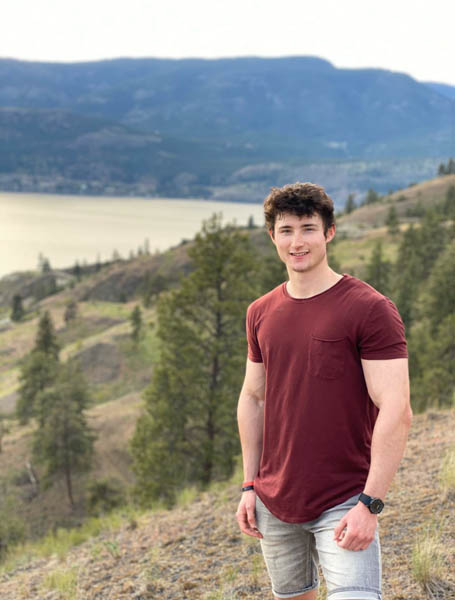 Jordan Renwick is the founder of JR SPORT ELITE and was born and raised in Kelowna, BC. He can't say enough about being able to grow up in the beautiful Okanagan Valley and he has been very fortunate to live next to Knox Mountain Provincial Park. This is Jordan's training ground for an elite physical fitness regime that can push most to their limits. Jordan is passionate about maintaining good health and strong physical fitness. He is now training to compete among the best at competitive Pickleball Tournaments across North America.
---
Questions:
What do you like most about competitive Pickleball and when did you start?
I like the variety of people I get to meet and I have always enjoyed people who are older as they are supportive of me as a young top player. I like being around people who like to laugh and enjoy life! I first was introduced to Pickleball when I was around 13, but chose to train in competitive tennis until I was 17. I started competing at a professional level in Pickle Ball in 2017.
What are your future goals?
I have completed my Business Administration program at Okanagan College and I am looking forward to developing my business. I will continue to network with key business professionals to bring my ZEAL Brand of products to the market. I plan to work hard training on and off the court so I can compete with top professionals in the world and represent Canada well. As time permits, I will continue to provide lessons and clinics to all levels of pickle ball players wanting to improve their skills at this fast-growing game.
What attributes do you think you received from your parents and how does it help with playing Pickleball?
I was given Drive and Determination from my Mother and Speed, Strength, and Stamina from my Father. Any time you compete you have to handle the pressure. I find I thrive when tested to my limits and I do well in controlling the negative effects of stress.
What are your best memories of travelling as a child?
I was fortunate to travel around the world to many destinations and enjoy a variety of cultures and experiences. I still love Long Beach with the majestic beauty of the West Coast and Ocean Air and I love Phoenix as we have a family condo in Scottsdale where we vacation annually.
What do you think it is going to take to reach your goals?
My Brand called ZEAL, (ZEST ENTHUSIASM, ALWAYS LIVING) is about me wanting to live a positive life. It is not about selling products, winning at tournaments or having material possessions. For me, life is about having a mindset to be well mentally and physically. You have to be able to handle challenges in life and be the best person you can be with a positive attitude. I have learned to think differently after a near death experience in an ATV accident in May of 2019. I came out of that experience with a dislocated hip and I was very lucky I was able to recover as it could have been much worse. This experience taught me to be grateful for what you have and to learn from life's lessons. Life is about living so you need to do what is in your heart and listen to your intuition. We need to love ourselves and enjoy all what life has to bring!
---